With our last week of Epic Quests in Season 5, we're tasked with some of the easiest challenges to date. Most of them focus on making us interact with NPCs in some way. In this guide, we will cover all the NPCs you can use to upgrade a weapon.
How to Upgrade a Weapon | Fortnite | Week 15 Epic Quests
With this challenge, we only need to upgrade one weapon, but we've got the locations of all of the NPCs that will do this for you. This means that no matter where you land, you can easily complete this quest by going to the NPC closest to you. We'd like to thank Fortnite GG for the map drawing functionality!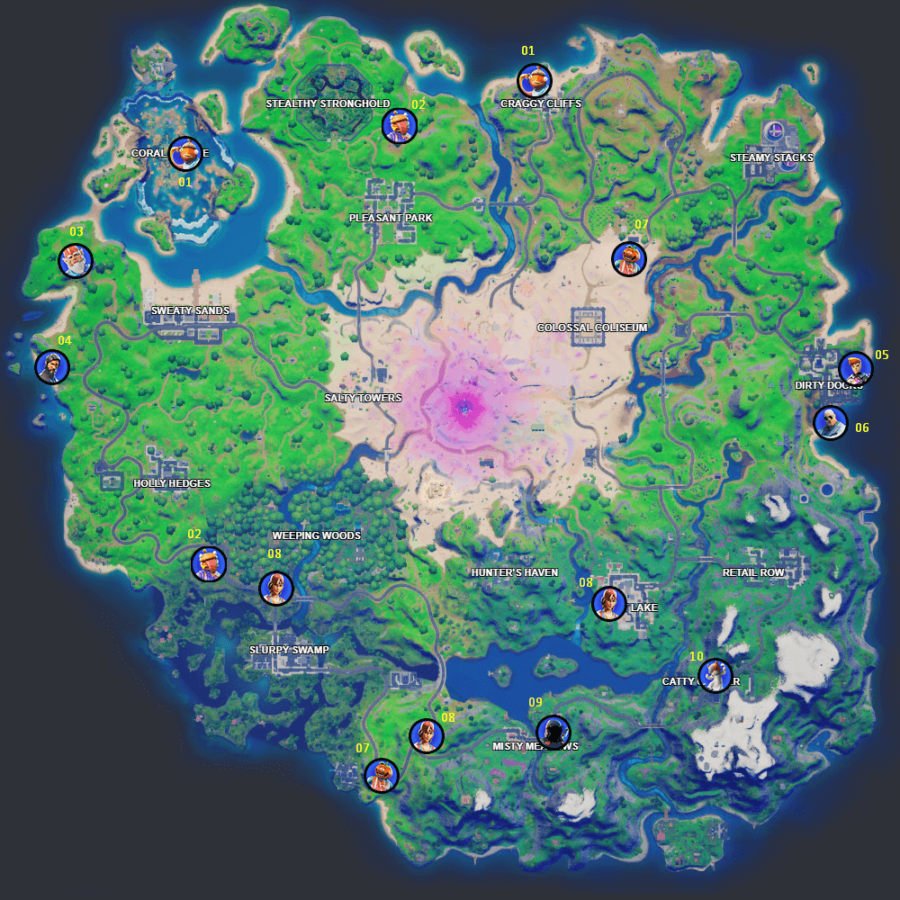 The image above shows you every NPC location where you can upgrade your weapons. Unfortunately, they tend to wander so we can pin-point precisely where they'll be. Some of them also have multiple spawn locations, so if you were hoping to do this in one match, it'll be easiest to pick an NPC with only one spawn location.
Related: How to Hire a Character | Fortnite | Week 15 Epic Quests - Pro Game Guides
Here are the locations of each NPC that will upgrade your weapons. Once you have found one, you need to hold a weapon that can be upgraded, then interact with them to open the radial and select the option to Upgrade. Easy-peasy!
Fishstick

In the center of Coral Castle, a bit southeast of the largest building.
In the restaurant on the northern side of Craggy Cliffs.

Beef Boss

Durr Burger Food Truck, east of Stealthy Stronghold.
Durr Burger restaurant, west of Weeping Woods.

Grimbles

Fort Crumpet, northeast corner of the map, south of Coral Castle.

The Reaper

Boost Pad, western edge of the map.

Reese

Eastern warehouse of Dirty Docks, near the water.

Brutus

Southern tip of Dirty Docks.

Tomato Head

The Pizza Pit, south of the Orchard.
Pizza Pit Food Truck, on the road South of Hydro 16.

Sparkplug

Gas station north of Slurpy Swamp.
Gas Station West of Misty Meadows (and South of Hydro 16).
Gas Station in Lazy Lake.

Kondor

Eastern side of Misty Meadows.

Kit

Northern half of Catty Corner
Did you know we have the entire list of all the challenges for Chapter 2 Season 5? It even includes guides for the tougher ones! You can check out the full list here.